International civil rights activist Henry Sylvester Williams born
February 19, 1869 - March 26, 1911 (42)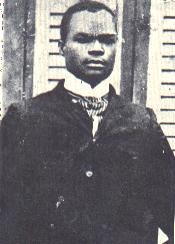 International civil rights activist Henry Sylvester Williams born in Arouca, Trinidad to parents from Barbados.

Williams moved to New York then later to England where he followed politics and interacted with Ms. E.V. Kinloch, a Black South African woman who openly criticized colonial oppression in South Africa. Williams, Kinloch, and Joseph Mason of Antigua, established the African Association in 1897.

In 1901 Williams went on a speaking tour around the world and managed to set-up branches of the Pan-African Association in the United States, Jamaica and Trinidad. Williams was called to the bar in June 1902, becoming the first barrister of African descent to practice law in Britain.