Former football star / Actor O.J. Simpson born
July 9, 1947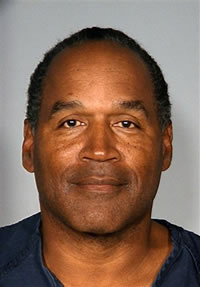 Orenthal James Simpson was born in San Francisco, California.

Simpson set several NFL records including most rushing yards gained in one season, most rushing yards gained in a single game, and most touchdowns scored in a season.

The majority of his football career was spent playing for the Buffalo Bills, though he finished his professional football career in 1979 with the San Francisco 49ers.

After retiring from football, Simpson became a sports commentator and actor seen regularly was seen in Hertz advertisements and movies.

His personal and professional career has faced challenges ever since the murder of his ex-wife Nicole Brown Simpson and friend Ron Goldman despite begin acquitted of their murders in criminal court in 1995 after what has been dubbed the "Trial of the Century."