President Barack Obama born
August 4, 1961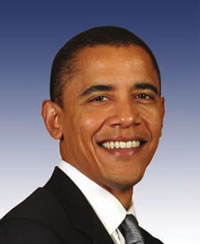 Barack Obama was born in Hawaii on August 4th, 1961. His father, Barack Obama Sr., was born and raised in a small village in Kenya. His mother, Ann Dunham, grew up in small-town Kansas. Barack's parents met at the University of Hawaii, where they were both students.

Barack's father eventually returned to Kenya, and Barack grew up with his mother in Hawaii, and for a few years in Indonesia. Later, he moved to New York, where he graduated from Columbia University in 1983.

He went on to earn his law degree from Harvard in 1991, where he became the first African-American president of the Harvard Law Review.

He ran for the Illinois State Senate, where he served for eight years. In 2004, he became the third African American since Reconstruction to be elected to the U.S. Senate.

On February 10, 2007, Obama announced his candidacy for President of the United States. On January 3rd, 2008 Obama became the first African-American candidate to win a U.S. presidential primary/caucus. On August 27th, 2008 in Denver, Colorado the Democratic National Convention made Senator Barack Obama the first African-American ever nominated by a major party as the party's presidential candidate.

On November 4th, 2008 Barack Obama was elected as the first African American President of the United States.

On January 20th, 2009 at 12:01 PM EST Barack Obama was sworn in as the first black president in an inaugural ceremony at the U.S. Capitol.