Jamaican Olympic gold medalist Usain Bolt born
August 21, 1986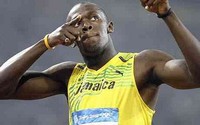 Jamaican Olympic gold medalist Usain Bolt born in Trelawny, Jamaica.

Bolt set the Olympic and world records for the 100 metres at 9.69 seconds, the 200 metres at 19.30 seconds and, along with his teammates, the 4x100 metres relay at 37.10 seconds at the 2008 Summer Olympics. He became the first man to win all three events at a single Olympics since Carl Lewis in 1984, and the first man in history to set world records in all three at a single Olympics.

On the eve of his 23rd birthday and the one-year anniversary of his Olympic gold-medal triumph in the 200 M Bolt broke his own record in the 200 Meters with a first place finish of 19.19 seconds at the 12th world athletics championships in Berlin. Earlier in Berlin, Bolt won gold in the 100 Meters breaking his previous record in an absurdly fast 9.58 seconds.